Outstanding performance
NWF Agriculture has grown to be a leading national supplier of ruminant animal feed to 4,132 customers in the UK, feeding one in six dairy cows in Britain.
Feeds
NWF provides nutritional advice to farmers across the country with over 55 trained nutritional advisors analysing forage and farmers' objectives to deliver feed to optimise performance. Feed is then produced from mills across the UK and delivered directly to farmers, with the majority of the business being dairy, but also supporting beef and sheep farmers.
The outstanding performance improvement has been driven by farmers utilising nutritional advice to optimise diets and added value products to benefit from a record high milk price.
Andrew Downie, Managing Director, Feeds
Our strategy
Utilise national operations platform
Continue to develop feed volumes across the country
Promote personal development with the NWF Academy
Increase nutritional range offering to over 4,132 farmers across the UK
514,000
tonnes of feed delivered
Our Feeds locations
Wardle
Aspatria
Longtown
Wixland
Review of the year
Feeds is focused on providing nutritional advice and on-time deliveries of animal feed to farmers across the country. Total feed volume decreased by 2.7% to 514,000 tonnes (2022: 528,000 tonnes). This reduction was marginally lower than the overall market and resulted from a mild autumn and a later transition to indoor housing for dairy herds.
Commodity prices were extremely volatile during the year. In comparison to prior year, a basket of commodities was 5% higher overall, but from the start of the year to the end in May 2023 they fell 27%. This volatility has in part been driven by uncertainty around the Ukraine conflict and its material impact on agricultural commodity markets.
Revenue was higher at £225.8 million (2022: £194.9 million) reflecting the higher feed prices more than offsetting lower volumes in the year. Headline operating profit was £3.9 million (2022: £1.8 million). The outstanding performance improvement has been driven by farmers utilising nutritional advice to optimise diets and added value products to benefit from a record high milk price. In addition, the division benefitted from commodities purchased prior to the Ukraine conflict being utilised over the summer period when feed prices had increased.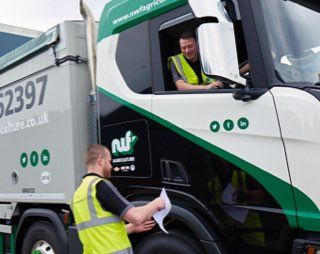 Outstanding performance
We have continued investment in the NWF Academy in which new trainees engage on an 18-month structured training programme to become future NWF nutritionists. The Academy has recruited a fourth group to the programme, which has been well received across the industry. Graduates of the programme are now developing as successful nutritionists in our national sales team.
Milk prices in the UK increased to a record of 51.6p per litre in December 2022, supporting farming customer's higher feed, energy and labour costs. The average price for the year of 46.5p per litre compared to an average in the prior year of 34.4p per litre. At the end of the financial year the milk price had fallen to below 40p per litre. Milk production was 0.8% higher at 12.4 billion litres (2022: 12.3 billion litres).
Feeds has a very broad customer base, working with over 4,000 farmers across the UK. This base, and the underlying robust demand for milk and dairy products, results in a reasonably stable overall demand for our feed in most market conditions.
Market trends and responses
Highest milk price at over 50p per litre
The high milk prices have rewarded our farming customers in the year and reached record levels. This has supported farmers who have higher labour, feed, fuel and fertiliser costs and has more than covered the impact of the cost increase in commodities resulting from the Ukraine conflict. The higher returns for farmers have benefitted NWF as we provide nutritional advice which increases yields and lends itself to higher protein feeds to optimise returns. Whilst farmers are generating a good return with higher milk prices, they have not been increasing herd sizes or expanding their farms as there are shortages of labour and challenges in importing heifers from the continent post-Brexit. This would suggest that even as the milk price reduces, it should maintain at a sustainable level for farmers.
Impact of commodity shortages and price volatility as a result of the Ukraine conflict
Spot commodity prices increased by an average of £50 per tonne (17%) after the start of the conflict in Ukraine. These higher costs were passed on to farmers as the herds moved from a winter to a summer diet, which mitigated some of the impact. Subsequently there has been significant volatility and uncertainty which is linked to both the news flow from Ukraine and the uncertain economic development of economies across the globe. There have been no absolute shortages in the year but some substitution and reformulation of diets was required. Moving into the winter period, grains moved down in price whilst proteins remained high, again resulting in some diet changes on farm to optimise performance and returns for farmers.
Environmental impact of dairy farming
Dairy farming is a sustainable source of protein as much of the nutrition is produced on the land and the proteins in feed are often byproducts of human food production. The most significant change a dairy farmer can make is to increase the yield of the herd by using NWF nutritional advisors to increase output per cow. CO2 emission from methane is a negative output of dairy farming and NWF has developed specific diets which are proven to reduce methane production in lactating dairy cows.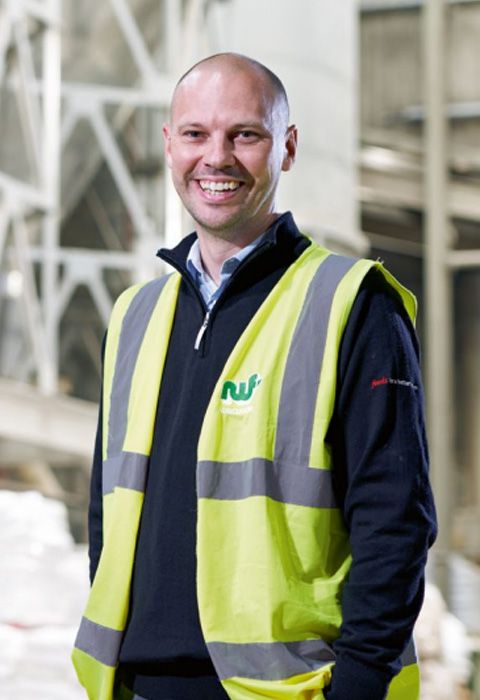 Rob Warrington
Business Unit Director for the North
Skilled for growth
Depth of experience
After completing an agricultural course at Rodbaston College in 1999 and a brief period of managing his own business, Rob joined NWF Agriculture in 2005 for what he thought would be a short stint working in the blend plant. This year, he will celebrate his 18th year with the business and is now Business Unit Director for the North.
Q. Tell us about your career with NWF
A. I joined the business in 2005, working in the blend plant manufacturing bespoke blends for the ruminant animal feed market. After four months, a position came up within operations at Wardle Mill and I was successful in becoming the Mill Scheduler. Over the course of three years I was introduced to all areas of operations, and as the business evolved, I gained invaluable experience across all sites. Following a transition period at one of our mills, I was tasked with improving the performance of the mill and recruiting a new team to run it. Following this successful period, I was then promoted to Operations Manager, a role I continued to grow in until later in 2015, when I became General Manager of SC Feeds. I subsequently returned to Wardle to run the SC Feeds sales function and my role was expanded to include NWF transport. I restructured the transport function to meet the more complex requirements of the market at the time, and am really proud of what was achieved during this period.
After this, I was promoted to Supply Chain Director, taking responsibility of all areas of the supply chain and operations. Following a strategic review of how the business was run, I moved to become Business Unit Director for the North, a role that allows Feeds to better respond to the requirements of our customers in the North of England and Scotland.
Q. You've been with NWF for a number of years; what is it that keeps you here?
A. I'm an ambitious person and I feel the business has always been able to match my ambition through varying the work I do, increasing my responsibilities and exposing me to different and new things. I've also always felt supported in my career and have had mentors from within the business who have guided me on my journey. I'm proud to be able now to share my knowledge and experience to develop new talent in the business.
Also, working in a business like NWF Agriculture, which has the support of the Group but is run independently, has allowed for efficient and fast decision making to take place. I've always felt that my ideas have been listened to at both a Feeds and Group level.
Finally, one of the biggest things is the people in the business; there's a really strong team spirit and culture in Feeds, with everyone working towards shared objectives, so it's a great team to be part of.